Oladfashion.com – Denim dresses are a great choice for any season. They look fab with sandals and boots and they are also super comfortable!
Denim Outfit Ideas for Matching Looks
They are made of denim which is a fabric that goes well with almost any color. We have rounded up some denim dress outfit ideas that you can try! The classic pairing of combat boots and denim dresses is an easy way to make an outfit stand out. This look is perfect for a night out with friends or an evening event.
If you want to take it a step further, pair your combat boots with a slouchy leather shoulder bag or crossbody. This combo will give your outfit a fun, hipster feel and make you look ready for the party! Another great option for this outfit is to wear black sneakers. They will look great with a casual dress, and you can add a pop of color with a white handbag or light pink cap.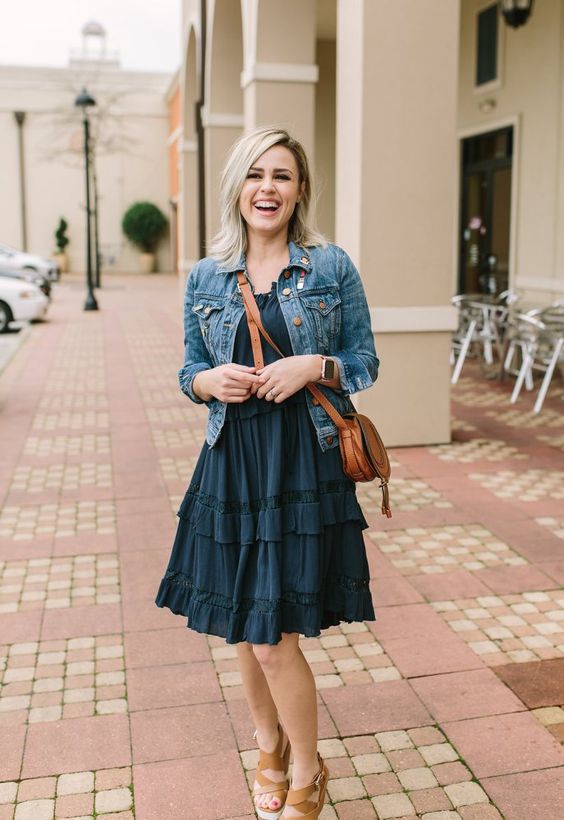 A simple pair of ballet flats will also look great with this outfit, as they will give the outfit a subtle feminine touch. You can also pair this outfit with espadrilles for a more casual look in the summer or spring. If you are looking for an easy and comfortable outfit, this is the perfect combination. You can wear it to run errands or catch up with friends. Just pair it with some cool sneakers to make it look more casual and chic!
Ways to Style a Denim Shirt Dress
White Sneakers are very popular in the fashion world, and they work well with a casual denim shirt dress. You can get a pair from Vans or Superga to make your look very stylish! There are many ways to style a denim shirt dress, but the best way is to use the right type of shoes. You can choose a pair from sneakers, flat sandals or combat boots to go with it.
A denim shirt dress is the perfect combination of femininity and style, so it's definitely a great choice for wearing sneakers. You can go for a classic pair of white sneakers like those from Golden Goose to make your dress look more fashionable and trendy. Flat sandals are a great pair of shoes to wear with a denim dress. This look is easy to style, and it's perfect for a day at the beach or shopping downtown.
For an elevated look, a strappy stiletto sandal in a metallic hue and cute clutch will make this outfit a winner! You can also opt for a pair of espadrilles, which are another shoe type that goes with just about anything. You can find them in a variety of heel heights and colors, and they're a trendy way to add some flare to a casual denim dress outfit!
Adding a Touch of Class to a Denim Dress
White sneakers are a great way to add a touch of class to your denim dress outfit. You can choose from a wide range of brands, including Vans and Superga. You can also go for a pair of white platform sneakers if you want to take your look to the next level. Alternatively, a pair of black sneakers is an easy way to add an edgy element to your look. Denim dresses are a wardrobe staple and go with a surprising number of shoe styles, so you can create looks that range from casual to dressy.
If you're going for a more sophisticated look, you can try a dark wash denim shirt dress that's paired with black sneakers. It's a fun outfit that's perfect for a day of sightseeing or catching up with friends. You can also wear a belted denim shirt dress that's paired up with heels or boots for a more polished look. A wide-brimmed hat would also be a great way to accessorize this outfit.
A white denim shirt dress is another option that's a great choice for a casual, yet polished look. You can pair this denim dress with ballet flats, heels or even tie up sandals for a more feminine look. We are happy to receive guest post submissions from you.